[Back to the Main Page!]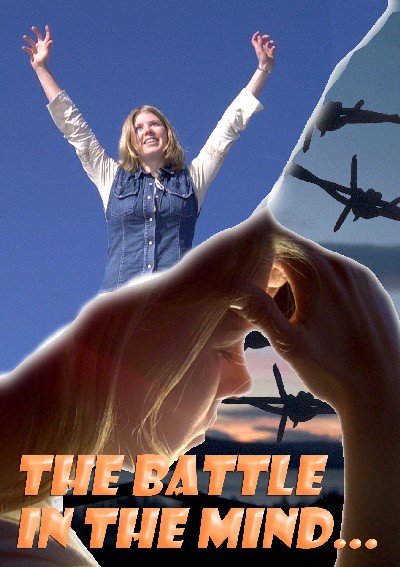 We Are at War!
How Are We Going to Win An Undeserved Victory?
Do you feel unworthy, miserable, powerless, and lost? If so, we would like to offer you some encouragement and hope! The words of Jesus apply to you: "Come unto me, all ye that labour and are heavy laden, and I will give you rest" (Matthew 11:28).
Practical Love!
Have you ever considered the great love Jesus has shown us - to save you and us? "The Little Bible" puts it like this: "For God so loved the world, that he gave his only begotten Son, that whosoever believeth in him should not perish, but have everlasting life" (Jn 3:16). One of Jesus' disciples, John, experienced the love of Jesus firsthand, and he writes thus about it: "Herein is love, not that we loved God, but that he loved us, and sent his Son to be the propitiation for our sins" (I John 4:10). Some love! Jesus gave up His own life that we might have a future, hope, and eternal life.
How Can Jesus Save Us?
But how could Jesus save us? Well, He was obliged to succeed where Adam failed. How was Jesus able to do that, seeing He is God? Paul describes it this "Let this mind be in you, which was also in Christ Jesus: Who, being in the form of God, thought it not robbery to be equal with God: But made himself of no reputation, and took upon the form of a servant, and was made in the likeness of men" (Php 2:5-11). John tells it in this manner: "In the beginning was the Word, and the Word was with God, and the Word was God. The same was in the beginning with God. All things were made by him; and without him was not any thing made that was made. . And the Word was made flesh, and dwelt among us, and we beheld his glory, the glory as of the only begotten of the Father, full of grace and truth" (Jn 1:1-3 + 14).
This is hard to comprehend; this scripture describes Jesus as the "Word". It was Jesus who came here in the flesh - like a human being. Paul confirms it with these words: "Forasmuch then as the children are partakers of flesh and blood, he also himself likewise took part of the same" (Heb 2:14). Elsewhere Paul writes that God sent "his own Son in the likeness of sinful flesh" (Rom 8:3). To save us, Jesus Christ had to overcome where Adam (man) had sinned. He had to put Himself on our level. In spite of being God, He appeared as a human, like a weakened person. Only this way could He save us. Paul describes the mission and struggle of Jesus in these few words: "Wherefore in all things it behoved him to be made like unto his brethren, that he might be a merciful and faithful high priest in things pertaining to God, to make reconciliation for the sins of the people. For in that he himself hath suffered being tempted, he is able to succour them that are tempted." . "For we have not an high priest which cannot be touched with the feeling of our infirmities; but was in all points tempted like as we are, yet without sin. Let us therefore come boldly unto the throne of grace, that we may obtain mercy, and find grace to help in time of need" (Heb 2:17-18 and 4:15-16).
This is the foundation of salvation. Jesus lived life without sinning. Shortly after His birth in a manger in Bethlehem, Satan, through Herod, attempted to take His life (Mt 2:7-23). He was tempted to sin by the Devil/Satan (Mt 4:1-11). The Pharisees and the scribes tried to tempt Him, and levied false charges at Him. He was tried and tested in many ways. He was whipped, tormented, beaten, and spat upon. They put a crown of thorns on His head, and eventually they hanged Him on a cross as a malefactor, although He had committed no crime. There, on the cross at Calvary, He gave His life for you and for us. A little while after crying, "It is finished", He perished. The victory was won. Shortly thereafter, they pierced His side with a spear, water and blood issuing, a sign that Jesus was dead. He spilled His blood for you and for us. He died for us, to let us live-forever. Imagine the self-sacrifice and love! He showed He cared for us. Should not we all demonstrate our gratitude to Him, by accepting the gift of salvation?
With His Stripes We are Healed
Jesus had many friends, but also many enemies. "He is despised and rejected of men; a man of sorrows, and acquainted with grief: and we hid as it were our faces from him; he was despised, and we esteemed him not. Surely he hath borne our griefs, and carried our sorrows: yet we esteemed him stricken, smitten of God, and afflicted. But he was wounded for our transgressions, he was bruised for our iniquities: the chastisement of our peace was upon him; and with his stripes we are healed" (Is 53:3-5).
But why did Jesus have to go through all of this? You may ask. Well, the Bible states, "sin is the transgression of the law", and that "the wages of sin is death" (I Jn 3:4; Rom 6:23). Moreover, the Bible says that we "all have sinned, and come short of the glory of God" (Rom 3:23). Hence, we are in the same boat. From the outset, we are doomed to die, because we have all sinned. Because of this our lost condition, Jesus arrived to save us from eternal destruction.
Our Senses and the Struggle between the Flesh and the Spirit
Although much has been wrecked on Planet Earth, we can still see a lot of God's creation; a host of beautiful flowers, trees, birds, animals and persons. Both men and animals are endowed with exquisite senses, eyes, ears, noses, mouths, and emotions. Through these, we are able to enjoy the glories of nature. We should train our senses to discover all the beauty in nature. This will enrich life.
Notice, however, that we have an enemy. He is called the Devil and Satan. It is he who tempts us to do what is not right. He tempts us via our senses. He knows that by giving in to the lust of the flesh, we will sin. That is why he entices us into situations, where we can see, hear, taste, and feel that, which leads to sin. He lures us through our senses to sin. He beckons us to act contrary to the laws of nature, and the law of God.
Since the Creator has established the Ten Commandments (Ex 20:3-17) as guidelines for humans, Satan, who opposes God, endeavours to influence us to break God's commandments. God wants us to do His commandments, whereas the Devil wants the opposite. This struggle between one's flesh and the Spirit wages on every day, every minute, indeed, every second. This is how Paul describes it:
"This I say then, Walk in the Spirit, and ye shall not fulfill the lust of the flesh. For the flesh lusteth against the Spirit, and the Spirit against the flesh: and these are contrary the one to the other: so that ye cannot do the things that ye would. But if ye be led of the Spirit, ye are not under the law…
The Flesh and the Spirit - Two Opposing Forces
Now the works of the flesh are manifest, which are these; Adultery, fornication, uncleanness, lasciviousness, Idolatry, witchcraft, hatred, variance, emulations, wrath, strife, seditions, heresies, Envyings, murders, drunkenness, revellings, and such like: of the which I tell you before, as I have also told you in time past, that they which do such things shall not inherit the kingdom of God…
But the fruit of the Spirit is love, joy, peace longsuffering, gentleness, goodness, faith, Meekness, temperance: against such there is no law, and they that are Christ's have crucified the flesh with the affections and lusts. If we live in the Spirit, let us also walk in the Spirit" (Gal 5:16-25).
The Power We all Need!
We are all created with the ability to make our own decisions in life—freewill. The center of the brain, which houses our ability to choose, reason, and estimate, is superior to our centers of sense. When we are aware of this, and deliberately use our will, we can make our own conscious decisions, without being governed by our senses, by other men, or by circumstance. God created us this way, but He wants us to co-operate with Him. It is when we understand God's will, that we will make the soundest decisions in life. We can ask God to assist us in choosing according to His will. That enables us to stand the temptations of Satan. If we make selfish decisions without enquiring about God's advice, we will frequently make decisions that we will rue afterwards. Our part, therefore, is to enlist our will on Christ's side, merging our will with that of God. As we subordinate our will to His will, His way being the best, the Holy Spirit will quickly enter into our lives, and work in us to will and to do according to God's good pleasure(Php 2:13). Whenever we elect not to obey our self/ego, but decide to adhere to God's will, we become allied to the power that is above all powers. We receive a might from God that keeps us connected to His might, whereby we can live a new life - the life of faith.
What help will be ours in the fight against the temptations of Satan? We have already mentioned a bit about it, but we will take a closer look: As Jesus ascended to heaven, He said "But ye shall receive power, after that the Holy Ghost is come upon you: and ye shall be witnesses unto me".
In another place, Jesus said "But the Comforter, which is the Holy Ghost, whom the Father will send in my name, he shall teach you all things, and bring all things to your remembrance, whatsoever I have said unto you". Lastly, Jesus also promised the following: "Howbeit when he, the Spirit of truth, is come, he will guide you into all truth" (Ac 1:8; Jn 14:26 and 16:13). The Holy Spirit, a Person in the Godhead, will give us the power to be witnesses for Jesus. He will help us to understand the truth of God's Word, and to live according to the will of God. This way we will get power to overcome the temptations of Satan, which we otherwise cannot do in our own might.
Will Everybody Be Happy In His Own Way?
Some think that we are to base our faith on our "gut feeling"; some say, "everybody is happy in his own way". The Bible, though, says there is "one Lord, one faith, one baptism" (Eph 4:5). Jesus, the Creator, says "I am the way, the truth, and the life: no man cometh unto the Father, but by me" (Jn 14:6). Therefore, we are not happy in our own way. We must rather follow in the footsteps of Jesus, Who is the Way. Not grope for some way according to our "gut feeling", but follow the way He has laid out, and that way we can find by studying God's Word. So many teachings and church denominations are built around certain ideologies or certain verses from the Bible. Truth, however, is found in a study of God's Word, the Bible, and all truth clusters around Jesus, the Savior. Nobody else but the Creator has given us life, and it is through Him that we go on existing (Col 1:17). No other persons are in a position to give us a future and a hope - which will produce life eternal. It is only as we accept Jesus in faith, saying "yes" to His offer of grace and salvation that we can be saved. This is the decision you must make now! You choose either life or death. The Bible states: "For the wages of sin is death; but the gift of God is eternal life through Jesus Christ our Lord" (Rom 6:23).
Shortly before Joshua, leader of Israel, died, he told the people they had to choose whom to serve, either the gods of the Egyptians and the Amorites, or the Lord. He then gave this testimony: "As for me and my house, we will serve the LORD" (Jos 24:15). Let each one of us make a clear and resolute decision to follow Jesus Christ now! Then we shall pass from death unto life, then we shall have a true purpose of life, then we shall gain a future and a hope.
How to Get Rid of the Greatest Burden!
Saying "yes" to Jesus also means that He will help us get rid of the weight of sin from our lives. Jesus came to save us from sin (Mt. 1. 21). You see, as long as we have unconfessed and unrepented sin in our lives, we are slaves to sin. The Bible says, "Whosoever committeth sin is the servant of sin" (Jn 8:34). Then we are as though caught with a lasso. Satan controls us, and we cannot be saved in this condition, because no unclean thing will enter the kingdom of God (Rev 21:27). In this lost condition, we have to pray to God for deliverance. Only Jesus can deliver us. He can break the chains of sin, and it is as we begin to tear at the chains of sin to be set free that the struggle really starts. As the Holy Spirit awakens one's conscience, one progressively realizes the sinfulness of sin, its power, its evilness, its resulting pain, and begins to view it with loathing. We will understand that sin has separated us from God, and that we are slaves to sin. The harder we try to set ourselves free, the more we will perceive our helplessness. Our motives are unclean, and our hearts wicked. We see that our lives have been self-serving, and we long to be liberated, to be cleansed and set free. How can we come into agreement with the will of God?
Our need is peace - God's blessing, peace and love. That peace money cannot buy; we cannot obtain it with cleverness or wisdom. We can never expect to attain to it by our own efforts. However, God offers it as a gift, "without money and without price"
(Is 55:1). It is yours, if you will only stretch out your hand and accept it. "Come now, and let us reason together, saith the LORD: though your sins be as scarlet, they shall be as white as snow; though they be red like crimson, they shall be as wool" (Is 1:18). If this is our attitude, Jesus says, "A new heart also will I give you, and a new spirit will I put within you: and I will take away the stony heart out of your flesh, and I will give you an heart of flesh" (Eze 36:26).
A new garment - undeserved
The point is that sin must be got rid of. We need to put all our sin on Jesus, so that He can reconcile our sin - making our salvation possible. We can illustrate it this way: "Now Joshua was clothed with filthy garments, and stood before the angel, and he answered and spake unto those that stood before him, saying, Take away the filthy garments from him. And unto him he said, Behold, I have caused thine iniquity to pass from thee, and I will clothe thee with change of raiment" (Zec 2:3-4).
The reverse also applies: Those who refuse to confess their guilt, who are too proud to humble themselves before the Lord, them God cannot forgive, and the wages of sin is death. Sin must be expelled before we can be declared righteous.
In the 15th chapter of the gospel of Luke, Jesus tells three parables on how He seeks after those who have gone away from God. In the last parable He tells about the son who asked for his inheritance and in so doing, he left home. He squandered all his money and eventually ended up eating pigs food along with them. Yes, it states that he longed to eat of the pigs' food. After sometime, he came to his senses and understood that this was no future life for him. He decided to go back to his father and acted according to his decision; he rose and went home. Then the son, still being a long distance from home, was seen by his father. Dirty and miserable was the son, as the father noticed his poor clothing. The father had mercy upon him, ran towards him, embraced and kissed him. "And the son said unto him, Father, I have sinned against heaven, and in thy sight, and am no more worthy to be called thy son. But the father said to his servants, bring forth the best robe, and put it on him; and put a ring on his hand, and shoes on his feet: and bring hither the fatted calf, and kill it; and let us eat, and be merry: for this my son was dead, and is alive again; he was lost, and is found. And they began to be merry." Lk 15:21-24
The clothing in this story symbolizes Christ's robe of righteousness. First, the son must have his dirty clothes removed and then receive the new clothes to put on. In the same manner, the sinner receives Christ's robe of righteousness by grace through faith, when he repents and accepts the salvation that is in Jesus Christ.
The question now is: Do we prefer to continue in a life of sin, immorality and wretchedness—to feed on spiritual pigs' food—or will we embrace the outstretched arms of God that receive every repentant sinner with joy?
The choice is yours! The choice is mine! But we must make a decision, it will do us no good just to wish or to ride the "pig's fence". We must act! We must "go" to Jesus and receive His offer of salvation and eternal life.
Salvation - conditional
Let us, as we are in the thick of the battle, memorize a few of God's promises: "If we confess our sins, he is faithful and just to forgive us our sins, and to cleanse us from all unrighteousness" (I Jn 1:9). "He that covereth his sins shall not prosper: but whoso confesseth and forsaketh them shall have mercy" (Proverbs 28:13). As we can see, salvation is given on conditions. Jesus has done everything to save us, but it is up to you and us to accept or to reject salvation. When David realized that he had sinned, he said, "I have sinned against the LORD" (II Sa 12:13). He later described this event thus: "I acknowledged my sin unto thee, and mine iniquity have I not hid. I said, I will confess my transgressions unto the LORD; and thou forgavest the iniquity of my sin. Selah"(Ps 32:5). That is the way Jesus is, He will always forgive a person who repents, confesses and turns away from his or her sinful acts. Once this is done, something happens inside. Paul describes this experience in these words: "Therefore if any man be in Christ, he is a new creature: old things are passed away; behold, all things are become new" (II Co 5:17). Your mind is changed because the Holy Spirit has entered your life. This metamorphosis and source of power, through the Holy Spirit, we all need. May all of us gladly accept this offer! Moreover, there is indeed hurry, because the world is increasing in ungodliness, and it will mold us, unless we seize the hand of God, and start our walk with Him now!
Forgiveness
Jesus says in the Lord's Prayer, "And forgive us our debts, as we forgive our debtors" (Mt 6:12). In the Epistle of James it says, "Confess your faults one to another, and pray one for another, that ye may be healed"(Jas 5:16). This shows us that in case one of us has offended his friend or neighbor, he should confess his sin to them, and they should willingly forgive him. In case you have sinned in public, you should confess publicly. Personal trespasses should be confessed to the individual offended. The final forgiveness is received from God through Jesus Christ. We must put all our sin on Jesus, so that He may atone for our sin! Cleansing your heart is exceedingly important, because Jesus says, "Blessed are the pure in heart: for they shall see God" (Mt 5:8). Moreover, John writes: "and there shall in no wise enter into it (the celestial city) any thing that defileth, neither whatsoever worketh abomination, or maketh a lie: but they which are written in the Lamb's book of life" (Rev 21:27).
The work of the Holy Spirit
How do we reach the conclusion that we should confess our sins? The Holy Spirit is continually calling on us to humble ourselves before God (Php 2:13). This makes it imperative not to resist. We need to humble ourselves, surrender our egos, and confess our sin. Then Jesus will assume our guilt. By grace through faith, we are made righteous without deserving it. The Father will regard us as righteous, because the righteousness of Jesus has been accounted or imputed to us. The prophet Isaiah describes this pardon thus: "I will greatly rejoice in the LORD, my soul shall be joyful in my God; for he hath clothed me with the garments of salvation, he hath covered me with the robe of righteousness" (Is 61:10). Paul tells of the same experience: "Therefore being justified by faith, we have peace with God through our Lord Jesus Christ" (Rom 5:1). This decision and faith experience we must not neglect, if we are to be saved. "But as many as received him, to them gave he power to become the sons of God, even to them that believe on his name" (Jn 1:12).
Pride
Dear friend, do not allow pride to hinder you from presenting all your sin before Jesus. Open up completely to Him, hold nothing back! Better confess your sin now, than having all the saved examine your life and see your hidden as well as your open sins when the saved come to heaven, and join in the judgment of the ungodly. Then they are going to see the records about the lost, and the reasons for their going under (Revelation 20:4). Would you like that? You see, you have nothing to lose, by putting all your sin on Jesus. You have all to gain by doing so! "Him that cometh to me", Jesus says, "I will in no wise cast out" (Jn 6:37). No sin, of which you heartily repent, is too grave for Jesus to forgive you. He is always willing to forgive us. Nevertheless, we are obliged to humble ourselves and confess our sin. Do it now! Do not postpone it. You may take a break right here and now, to make an inventory of your life. Fold your hands, and pour everything out before Jesus. Do it in faith, without doubting. You will be relieved and free - free from the chains of sin, because "if the Son therefore shall make you free, ye shall be free indeed" (Jn 8:36). So simply do it, make your decision now! Once it is done, Jesus says "my peace I give unto you: not as the world giveth, give I unto you" (Jn 14:27). We all need that peace! The world cannot provide it, only Jesus does.
The Baptism of Faith
It is written, "He that believeth and is baptized shall be saved" (Mk 16:16). The bible also states, "So then faith cometh by hearing, and hearing by the word of God"(Rom 10:17). Although we cannot see Jesus, we must believe in Him, Who gave rise to our chronology (BC-AD). Jesus Christ is the center of the entire bible. It is only through Him that we may be saved. Even if we cannot see Him today, He has revealed Himself through God's Word. Henceforth, "Now faith is the substance of things hoped for, the evidence of things not seen" (Heb 11:1). It is Jesus Christ - the only one able to save from sin - we are to believe in. Jesus Himself states: "I am the way, the truth, and the life: no man cometh unto the Father, but by me"(Jn 14:6). Furthermore, it is written that "Neither is there salvation in any other: for there is none other name under heaven given among men, whereby we must be saved" (Ac 4:12). Neither Buddha, nor Mohammed, nor the pope can save us. These were or are erring creatures. Only the Creator, Jesus Christ, who lived without sinning, is able to save fully all who come unto Him in faith. Do you believe that? Do you want to decide completely to believe in Jesus Christ, and to follow Him, obey Him and His revelations in the Bible, including the good news we can find in the Ten Commandments, no matter the cost? If so, the next step is preparing for baptism.
Faith and actions go together. James puts it this way: "Yea, a man may say, Thou hast faith, and I have works: shew me thy faith without thy works, and I will shew thee my faith by my works. . For as the body without the spirit is dead, so faith without works is dead also" (Jas 2:18-26).
Paul states it thus: "For by grace are ye saved through faith; and that not of yourselves: it is the gift of God: Not of works, lest any man should boast. For we are his workmanship, created in Christ Jesus unto good works, which God hath before ordained that we should walk in them" (Eph 2:8-10). For anyone who has accepted Jesus Christ as their personal Savior, it will be natural to demonstrate their faith by their works. Baptism is one such action of faith.
Before your Baptism, you should know the following:
The word "baptism" stems from the Greek "baptismo", which was used in the smith profession. It means you lower an object into the water, so that the
water covers it completely. Suppose a smith had made a bar of iron according to a certain fashion, and wanted temper his bar of iron according to that design. He would then lower it into the water, so that the water covered the object completely. In the same manner, the baptismal candidate is "buried" in the water as the water covers the entire person. By baptism, you symbolically demonstrate your acceptance of Jesus' death, burial and resurrection on your behalf. Moreover, baptism symbolizes that you bury your burden of guilt in the water and are raised in newness of life together with Christ. Baptism is also the answer of a good conscience towards God, a pact with Christ. The following Scriptures prove these points, "Know ye not, that so many of us as were baptized into Jesus Christ were baptized into his death? Therefore we are buried with him by baptism into death: that like as Christ was raised up from the dead by the glory of the Father, even so we also should walk in newness of life" (Rom 6:3-4) and "The like figure whereunto even baptism doth also now save us (not the putting away of the filth of the flesh, but the answer of a good conscience toward God,) by the resurrection of Jesus Christ" (I Pe 3:21).
If you, in everyday life, are to enter into a pact (a contract) with somebody, it is always important to know the contractual terms before signing the agreement. The same applies to one's act of baptism. Before baptism, you need to spend a lot of time in God's Word, and prayer, to become familiar with the contents of your treaty. This is, moreover, one of the reasons why we speak of "the baptism of faith", or "adult baptism". Before baptism, you should make a thoughtful decision - choosing to let God transform you, and to pray for power to follow Jesus all the way (I Pe 2:21). Baptism should be an outward sign of the change having taken place inside of you.
The "Baptism" of Infants
As we have already concluded, nobody should be baptized without believing. A tiny baby that has received a few drops of water on its head - sprinkled by a priest - has not been baptized biblically. It has not yet trained its senses to know what is right and wrong (Heb 5:13-14). It has yet to understand the message of Jesus Christ saving from sin. Hence, it cannot have a personal faith in Him. Since the Bible states, "He that believeth and is baptized shall be saved" (Mk 16:16) and that "faith cometh by hearing, and hearing by the word of God" (Rom 10:17), baptism must take place only after the person in question believes in Jesus Christ. The sprinkling of babies, therefore, is no baptism, but a tradition of men that looks nice. That is why all believers, who have experienced this sprinkling/infant "baptism", should be baptized the Bible's way.
Confirmation
The Catholic Church introduced confirmation in the 13th century. It is a known fact, that very few who are confirmed, believe in Jesus Christ as their personal Savior. This shows that such an ordination is a failure. Besides, Jesus, in His farewell speech to His disciples, says they should preach all that He has commanded us (Mt 28:18-20), and the "baptism" of infants, and confirmation, were not included in Jesus' teaching. They are unbiblical traditions.
Some Examples of Baptism
There are many examples of baptisms in the Bible. When Philip preached the gospel about Jesus to the Ethiopian eunuch, the eunuch told Philip: "See, here is water; what doth hinder me to be baptized? Philip said, If thou believest with all thine heart, thou mayest, and he answered and said, I believe that Jesus Christ is the Son of God. And he commanded the chariot to stand still: and they went down both into the water, both Philip and the eunuch; and he baptized him"(Ac 8:26-38).
When Philip proclaimed the gospel in Samaria, many accepted the message. The Bible also tells us the result of Philip's preaching: "But when they believed Philip preaching the things concerning the kingdom of God, and the name of Jesus Christ, they were baptized, both men and women"(Ac 8:12).
Shortly after Pentecost, Peter and the rest of the apostles appeared, saying: "Therefore let all the house of Israel know assuredly, that God hath made that same Jesus, whom ye have crucified, both Lord and Christ. Now when they heard this, they were pricked in their heart, and said unto Peter and to the rest of the apostles, men and brethren, what shall we do? Then Peter said unto them, Repent, and be baptized every one of you in the name of Jesus Christ for the remission of sins, and ye shall receive the gift of the Holy Ghost" (Ac 2:36-38).
As John the Baptist appeared in the wilderness, he cried to the people: "Repent ye, for the kingdom of heaven is at hand. And [they] were baptized of him in Jordan, confessing their sins" (Mt 3:1-6). We can see that baptism is preceded by acknowledging and confessing your sin, and that the individual person accepts the message about Jesus Christ as Savior in faith.
The Bible states, that there is "one Lord, one faith, one baptism" (Eph 4:5). Therefore, the biblical baptism is the baptism of faith, at which the believer is buried in the water and rises to newness of life together with Christ. In case you have yet to experience this baptism, you should follow in the footsteps of Jesus. He was buried in the River Jordan, despite He did not have to, but He did so as an example for us, in order that we should walk in His footsteps (Mt 3:1-17 and I Pe 2:21).
Dear friend, the Bible makes it crystal-clear that the baptism of Jesus, the biblical baptism, the baptism of faith, is of great importance. It is written: "He that believeth and is baptized shall be saved" (Mk 16:16). Once we have accepted the faith of Jesus - the kind of faith, which Jesus had - we are ready for baptism. James 4:17 says, "to him that knoweth to do good and doeth it not, to him it is sin." This is true of baptism, too. If you from the Word of God can tell that the baptism of faith is correct, and have not been baptized with this baptism, you should contact a preacher/pastor who proclaims the faith of Jesus so that this can be carried out.
Jesus told Nicodemus some thought-provoking words: "Verily, verily, I say unto thee, except a man be born again, he cannot see the kingdom of God"(Jn 3:3-6).
This story tells us, moreover, that the Holy Spirit continually beckons us to say "yes" to Jesus, and to follow Him. Jesus illustrates it this way: "The wind bloweth where it listeth, and thou hearest the sound thereof, but canst not tell whence it cometh, and whither it goeth: so is every one that is born of the Spirit" (Jn 3:8).
The workings of the Holy Spirit on the human heart can be likened to the wind, being invisible, but the effects clearly visible and noticeable. The regenerating power which no person can see, still produces a new life in the soul; it creates a new human in the image of God. Let us open ourselves to God's power in our lives. Our lives will then be completely changed. We will then be servants instead of rulers, we will be merciful instead of unsympathetic, we will love instead of hate, we will be friendly instead of warlike and we could go on. This is what the Holy Spirit is like, He works in us to will and to do according to God's good pleasure (Php 2:13). Dear friend, do not resist the Holy Spirit, but invite Him to enter your life. Then will all detect that something radical, something fantastic has occurred in your life. That is the way we become good witnesses for Jesus.
The Life in Christ
Once we have decided to follow Christ, and have been baptized in the Biblical manner, we are to go on living in and with Christ. Here it is worth noting, that we have an enemy, Satan, who tries to tempt us into doing what is wrong. Unless we have a firm connection to Christ, we will give-in to temptation. James has this to say about it: "Blessed is the man that endureth temptation: for when he is tried, he shall receive the crown of life, which the Lord hath promised to them that love him. Let no man say when he is tempted, I am tempted of God: for God cannot be tempted with evil, neither tempteth he any man: But every man is tempted, when he is drawn away of his own lust, and enticed. Then when lust hath conceived, it bringeth forth sin: and sin, when it is finished, bringeth forth death"(Jas 1:12-15).
Earlier we wrote about the struggle between the flesh and the Spirit. The flesh is part of us. Satan tempts us through our senses, but we are simply not to allow the flesh to rule. We are to follow the voice of God, His counsel and guidance. The Creator knows what is best for His creatures, and His ten commandments were designed for our happiness with God and with each other. These ten short commandments we all should learn by heart as they are given in Exodus 20:3-17. When we are in harmony with God's commandments, we are in harmony with Him, Whom designed them - for us.
The war against self is the greatest battle ever fought. To surrender self, to decide to follow God's will completely, to put on true lowliness of mind, and to demonstrate love, friendliness, and other good "fruits", is something we cannot accomplish off our own bat. But with God's power in our lives we can gain victory even in this department. The holy life and character of Christ is an unfailing example of how we can overcome self. His confidence in His heavenly Father knew no bounds. His obedience and self-surrender was unconditional and complete. He came not to be served, but to serve others. He came not to let His own will be done, but the will of Him, Who sent Him. In everything He submitted to Him, Whose judgment is righteous. Jesus said, "I can of mine own self do nothing" (Jn 5:30). God can and wants to give His servants all the might they need, as well as the wisdom necessary for every situation. He will fulfill the highest expectations of those, who place their trust in Him.
We will now use a few examples from nature to illustrate Christian growth: When you plant a seed in the ground, there follows a continual growth, provided the seed is given enough water, heat, and sunshine. The germination of the seed illustrates the beginning of spiritual life, and the development of the plant is a beautiful picture of growing as a Christian. The Christian life corresponds to things in nature: No life without growth. Either a plant must grow, or it dies. Just as a plant quietly grows without notice, so your Christian life develops. Your life may be perfect during each step of your spiritual development; in order for God's plan for us to succeed, we must continually make progress. Sanctification is the work of a lifetime. With every opportunity, we will gain in experience and increase our knowledge. We will get strength to shoulder responsibility, and we will mature in proportion to the tasks facing us. We shall now further consider Christian growth. As is the case with a plant, you gradually grow and develop. A plant grows by absorbing the nutrients provided by God. It sends its roots into the ground. The sun shines upon it and refreshed by dew and rain. It receives the life-giving substances of the air. This is, in fact, how a Christian should grow, in co-operation with God. When realizing our helplessness, we should make use of every opportunity handed us to gain a deeper experience. As a plant fastens its roots in the ground, we are to be grounded in Christ. As a plant gets sunshine, dew and rain, we are to receive the Holy Spirit in our minds.
The Bible describes the childhood and adolescence of Jesus in just a few words: "And the child grew, and waxed strong in spirit, filled with wisdom: and the grace of God was upon him… and Jesus increased in wisdom and stature, and in favour with God and man" (Lk 2:40 + 52). The wise Solomon gives some insight into what wisdom is: "My son, if thou wilt receive my words, and hide my commandments with thee; So that thou incline thine ear unto wisdom, and apply thine heart to understanding; Yea, if thou criest after knowledge, and liftest up thy voice for understanding; If thou seekest her as silver, and searchest for her as for hid treasures; Then shalt thou understand the fear of the LORD, and find the knowledge of God. For the LORD giveth wisdom: out of his mouth cometh knowledge and understanding" (Pr 2:1-6). Jesus obtained His wisdom from the Word of God. We would also do well to take time daily to search for God in prayer, and in the study of His Word. This will increase our knowledge of God, greatly helping us in our lives as Christians.
In the Bible, we can also find an excellent illustration of how to be in Christ, according to His own words: "Abide in me, and I in you. As the branch cannot bear fruit of itself, except it abide in the vine; no more can ye, except ye abide in me. I am the vine, ye are the branches: He that abideth in me, and I in him, the same bringeth forth much fruit: for without me ye can do nothing" (Jn 15:4-5).
Just as a branch cannot grow, and bear fruit, if it is separated from the stem, neither can we live a life in God without Christ. We know that death is the fate of a branch that is cut off. The same will happen to us, unless we have a continual connection to Christ - our spiritual life will die. Once spiritually dead, we will lack the power we require to resist temptation or to grow in grace and holiness. Nevertheless, when we remain in Christ, we may flourish and feel happy. If we draw nourishment from Him, we shall not wither or be without fruit but rather be like a tree planted by a flowing river. Many at first accept salvation in Jesus Christ, then they attempt to live righteously in their own strength. Any such efforts, however, are futile. We read just a few seconds ago these words from the mouth of Jesus: "without me ye can do nothing."Our growth in grace, our happiness, and the good things we might do, all depend on our connection to Christ. It is through intercourse with Him each day, each hour, indeed, each second - by abiding in Him - that we can grow in grace. He must not only occupy our thoughts in the morning, but also be with us all the time. Then we will grow as a seed, eventually becoming a ripened piece of grain, ready for the harvest when Jesus comes (Rev 14:13-15; I Th 4:15-17).
Perhaps you ask, "How can I remain in Christ?" In the same way you received Him. The Bible says, "As ye have therefore received Christ Jesus the Lord, so walk ye in him" (Col 2:6). "Now the just shall live by faith"(Heb 10:38). You gave yourself to God to belong solely to Him, to serve and to obey Him, and you accepted Him as your Savior. You were unable to make reconciliation for your sins, or to change your heart or way of thinking, Jesus did this for you and by faith received it. By faith, you became the property of Christ, and by faith, you are to grow up into Him, by getting and giving. You must give all— your heart, your will, your service, surrendering yourself to Him to obey all of His commandments. Similarly, you must receive all receive Christ, the source of all blessings. Allow Him to live in your mind and to be your strength, your righteousness, your eternal Helper, so that you may receive power to live in obedience.
Jesus says, "If ye love me, keep my commandments" (John 14:15). John, the beloved apostle, puts it this way: "By this we know that we love the children of God, when we love, and keep his commandments. For this is the love of God, that we keep his commandments: and his commandments are not grievous" (I Jn 5:2-3). Many claim this is "preaching thralldom to the law", or legalism. However, it is biblical preaching. If we desperately _ in our own might - endeavor to keep God's commandments, well, that is thralldom to the law, or legalism. Now, when we realize what Jesus has done to save us, we will want to adhere to the ten simple commandments, which God designed for us to ensure a perfect relationship to fellow men and to God. We are unable to keep them in our own power, but once the Holy Spirit has come into our lives, we then have all the power required to keep all of God's Ten Commandments, as given in Exodus 20:3-17. Do you believe that?
Do you believe that Jesus is stronger than Satan is? Do you believe that when Jesus says, "All power is given unto me in heaven and in earth" (Mt 28:18), He will share some of that power? Shortly before ascending into heaven, Jesus told His disciples: "But ye shall receive power, after that the Holy Ghost is come upon you: and ye shall be witnesses unto me both in Jerusalem, and in all Judea, and in Samaria, and unto the uttermost part of the earth" (As 1:8). Paul puts it thus: "There hath no temptation taken you but such as is common to man: but God is faithful, who will not suffer you to be tempted above that ye are able; but will with the temptation also make a way to escape, that ye may be able to bear it" (I Co 10:13). Peter and the apostles said "And we are his witnesses of these things; and so is also the Holy Ghost, whom God hath given to them that obey him" (Ac 5:32). In the Sermon on the Mount, Jesus uttered: "Not every one that saith unto me, Lord, Lord, shall enter into the kingdom of heaven; but he that doeth the will of my Father which is in heaven" (Mt 7:21). Moreover, "And being made perfect, he became the author of eternal salvation unto all them that obey him" (Heb 5:9). These texts tell us that God has promised the Holy Spirit to all who obey Him and do His will, and it is God Who decides whom He will give His Spirit! Imagine the source of power available to those who co-operate with God!
On the day of Pentecost, the disciples experienced an extraordinary measure of the Holy Spirit. They proclaimed the gospel with great power and God's work moved forward mightily. In these last days, God's people will again receive the Holy Spirit in great measure. Then the proclamation of the Three Angels' Messages, especially the third (Rev 14:12), will be accompanied by the message of COMING OUT OF BABYLON (Rev 18:4). It is now that we are to prepare to receive the "latter rain" of the Holy Spirit. It is now that we are to humble ourselves before God, acknowledge our sin, place ourselves wholly on Jesus' side that we may receive this special blessing and have part in the closing work. If we do not choose to follow Jesus fully and completely, the Holy Spirit will fall upon those around us but not on us.
Earlier, we saw that Jesus is righteous, and that all who accept Jesus Christ as their Savior in faith, will be accounted righteous because of Him. However, we also saw that we - with the power of the Holy Spirit - would do righteousness. We are now going to read a few more verses of Scripture concerning this. Paul pens it thus: "But in every nation he that feareth him, and worketh righteousness, is accepted with him" (Ac 10:35). Further, in the Bible, Paul reiterates this truth: "For not the hearers of the law are just before God, but the doers of the law shall be justified" (Rom 2:13). John writes the following: "If ye know that he is righteous, ye know that every one that doeth righteousness is born of him" (I Jn 2:29). A few verses on: "Little children, let no man deceive you: he that doeth righteousness is righteous, even as he is righteous" (I Jn 3:7). Furthermore, "Whosoever is born of God doth not commit sin; for his seed remaineth in him: and he cannot sin, because he is born of God" (I Jn 3:9). Jesus told Nicodemus: "Except a man be born of water and of the Spirit, he cannot enter into the kingdom of God" (Jn3:5).
It is the Holy Spirit, who helps us live righteous lives, and we have nothing to boast of ourselves. To God be the glory for all this help! Now, we cannot enter into God's kingdom without receiving the righteousness of Jesus, undeservedly through grace by faith. The result of accepting the righteousness of Jesus is that the Holy Spirit comes and dwells within us, and that He assists us to do righteousness. He helps us to keep God's commandments. One of the last verses in the Bible states, "Blessed are they that do his commandments, that they may have right to the tree of life, and may enter in through the gates into the city" (Rev 22:14).
These verses speak for themselves. Your faith will be mirrored in your actions. Regarding this, James wrote. "For as the body without the spirit is dead, so faith without works is dead also" (Jas 2:26).
The following is said of those saved in the last days just before Jesus returns: "These are they which came out of great tribulation, and have washed their robes, and made them white in the blood of the Lamb (Christ)"(Rev 7:14). In addition, "Let us be glad and rejoice, and give honour to him: for the marriage of the Lamb is come and his wife hath made herself ready. And to her was granted that she should be arrayed in fine linen, clean and white: for the fine linen is the righteousness of saints"(Rev 19:8).
When John preached about conversion and baptism, he told those who thought they possessed great wisdom from God: "Bring forth therefore fruits meet for repentance" (Mt 3:8). Jesus not only wants us to be hearers of the Word, but also its doers (Jas 1:22). Because of the Holy Spirit in our lives, we will receive power to be loving, friendly, courteous, helpful, thankful, merciful, etc. The fruit of the Spirit will be forthcoming in our lives and mold our characters according to the life of Jesus. We will resemble Him more and more in character. We will then be walking along the path to holiness, and Jesus has given us an example for us to follow His example (I Pe 2:21).
Christ demands a lot of us, but in His power, we can gradually become more like Him. We may be perfect in our sphere, and still there will be room for growth (Mt 5:48). Peter states it thus: "As obedient children, not fashioning yourselves according to the former lusts in your ignorance: But as he which hath called you is holy, so be ye holy in all manner of conversation; because it is written, Be ye holy; for I am holy" (I Pe 1:14-16).
Shortly before the people of Israel were to enter the Promised Land, the Land of Canaan, Joshua addressed the people: "Sanctify yourselves: for tomorrow the LORD will do wonders among you" (Jos 4:5). Signs of the times show very clearly that Jesus Christ, the Savior of the world, will soon come again. We are on the borders of the heavenly Canaan, and are likewise urgently requested to sanctify ourselves, for we are going to meet the Lord of lords and the King of kings. We are unable to sanctify ourselves. However, by daily giving ourselves to God, and with the Holy Spirit working in us and enabling us to live according to God's will - then are we being sanctified to God. Very clearly, we have to be clean-hearted to see God. Peter writes, "Nevertheless we, according to his promise, look for new heavens and a new earth, wherein dwelleth righteousness. Wherefore, beloved, seeing that ye look for such things, be diligent that ye may be found of him in peace, without spot, and blameless" (II Pe 3:13-14). In His Sermon on the Mount, Jesus says, "Blessed are the pure in heart: for they shall see God" (Mt 5:8).
However, before Jesus returns, we will have to go through a struggle. Obviously, we are at war, combatants in a spiritual war. It is a war between the flesh and the Spirit, between Satan and God. Psychological and spiritual warfare make this struggle evident. The Bible describes this confrontation thus:
1... "For though we walk in the flesh, we do not war after the flesh: (For the weapons of our warfare are not carnal, but mighty through God to the pulling down of strong holds ;) Casting down imaginations, and every high thing that exalteth itself against the knowledge of God, and bringing into captivity every thought to the obedience of Christ" (II Co 10:3-5).
2... "Put on the whole armour of God, that ye may be able to stand against the wiles of the devil. For we wrestle not against flesh and blood, but against principalities, against powers, against the rulers of the darkness of this world, against spiritual wickedness in high places. Wherefore take unto you the whole armour of God that ye may be able to withstand in the evil day, and having done all, to stand. Stand therefore, having your loins girt about with truth, and having on the breastplate of righteousness; And your feet shod with the preparation of the gospel of peace; Above all, taking the shield of faith, wherewith ye shall be able to quench all the fiery darts of the wicked. And take the helmet of salvation, and the sword of the Spirit, which is the word of God: Praying always with all prayer and supplication in the Spirit" (Eph 6:11-18).
3... "And the dragon was wroth with the woman, and went to make war with the remnant of her seed, which keep the commandments of God, and have the testimony of Jesus Christ" (Rev 12:17). (The term "the woman" is here a symbol of God's people/His congregation/the followers of Jesus. II Co 11:2.)
4... The characteristic of God's followers - who, like all others, will be urged to accept "the mark of the beast" - in the end of time, is this: "Here is the patience of the saints: here are they that keep the commandments of God, and the faith of Jesus" (Rev 14:12).
5... In the last book of the Bible, the Revelation, John saw in vision the victorious throng, those living shortly before the return of Jesus. They were now gathered in God's kingdom. They had fought and gained victory over the beast, the image of the beast, the mark of the beast, and the number of the beast. It says, "And I saw as it were a sea of glass mingled with fire: and them that had gotten the victory over the beast, and over his image, and over his mark, and over the number of his name, stand on the sea of glass, having the harps of God" (Rev 15:2).
6... The Bible describes the characteristics of the final, victorious throng thus: "And I looked, and, lo, a Lamb stood on the mount Sion, and with him an hundred forty and four thousand, having his Father's name written in their foreheads. And I heard a voice from heaven, as the voice of many waters, and as the voice of a great thunder: and I heard the voice of harpers harping with their harps: And they sung as it were a new song before the throne, and before the four beasts, and the elders: and no man could learn that song but the hundred and forty and four thousand, which were redeemed from the earth. These are they which were not defiled with women; for they are virgins. These are they which follow the Lamb whitersoever he goeth. These were redeemed from among men, being the firstfruits unto God and to the Lamb. And in their mouth was found no guile: for they are without fault before the throne of God" (Rev 14:1-5).
Quite clearly, then, a rest or remnant of God's people will be saved (Is 10:20-22; Mic 2:12; Rev 12:17; Rom 11:5; Rom 9:27). The Bible, therefore, says that it is these who will make it, those who keep the commandments of God and the faith of Jesus (Rev 14:12). So the heart-searching question for you is this: With the grace and help of God -will you keep God's commandments and the faith of Jesus? Salvation is a personal thing. We will be saved or be lost as individuals, not as units/churches. Unless you have given your life completely to Jesus by now, the invitation of Jesus reads: "Behold, I stand at the door, and knock: if any man hear my voice, and open the door, I will come in to him, and will sup with him, and he with me. To him that overcometh will I grant to sit with me in my throne, even as I also overcame, and am set down with my Father in his throne" (Rev 3:20-21). Jesus has overcome. We too may be victors, by accepting the salvation He has accomplished for us. Decide to accept this offer now! Today is the day of grace, the day of salvation! We do not know what might happen to us tomorrow. Today is the day of salvation! The harder and the longer we resist Jesus' loving invitation to be freed from the chains of sin, the more apathetic we will be to take a firm stand for Christ. Hence, Paul's urgent request is for you: "And now why tarriest thou? arise, and be baptized, and wash away thy sins, calling on the name of the Lord" (Ac 22:16).
The final spiritual battle comes also under the description of Armageddon. The Book of Revelation clearly depicts the respective combatants: All the corrupt powers of the earth - described as the dragon, the beast, and the false prophet - will be on the one side, and Christ - together with those wearing the raiment of Christ's righteousness - will be on the other side(Rev 16:12-16). We can find the same illustration in the next chapter. There, all the corrupt powers of the earth, who oppose God's ten commandments, as found in Exodus 20:3-17, fight against Christ and those aligned with Him (Rev 17:14).
May you and we be among those who faithfully follow the Lamb (Christ) wherever He goes. That will mean that we, together with the saved of all ages, soon will experience Jesus Christ, the Savior of the world, coming on the clouds of heaven (Jn 14:1-3; Rev 1:7; I Th 4:15-17 and I Co 15:51-54). Then we shall lift our hands towards the Savior, and exclaim "Lo, this is our God; we have waited for him, and he will save us: this is the LORD; we have waited for him, we will be glad and rejoice in his salvation" (Is 25:9).
Be an Active Witness!
Once we have realized what Jesus has done to save us, and we have experienced the rich life in Christ, we will want to share our happiness and the good news with others. No real Christian will keep quiet about this. The urgent request comes from our employer Himself, Jesus Christ: "All power is given unto me in heaven and in earth. Go ye therefore, and teach all nations, baptizing them in the name of the Father, and of the Son, and of the Holy Ghost: Teaching them to observe all things whatsoever I have commanded you: and, lo, I am with you alway, even unto the end of the world"(Mt 28:18-20). We are also strongly urged to present the message of salvation to all those in whom we meet. Jesus, Himself the light of the world (Jn 8:12), illustrates this point: "Ye are the light of the world. A city that is set on an hill cannot be hid. Neither do men light a candle, and put it under a bushel, but on a candlestick; and it giveth light unto all that are in the house. Let your light so shine before men, that they may see your good works, and glorify your Father which is in heaven" (Mt 5:14-16).
Because we are living in the end of time, we have a special message for the people; we find this message in Revelation 14, verses 6-12, and in chapter 18, verses four. It is a message of salvation and warning which is to be proclaimed to all nations and peoples. A message for our time. God will ensure this message gets out, and many who have caught the love of Jesus are already busy giving this message to the world through radio, TV, videos, faxes, e-mails, on the Internet, via short text messages, CDs, audio cassettes, books, booklets and pamphlets, street evangelizing, as well as more formal meetings. A movement is underfoot, and no one can stop it. You only have to make sure you join it, because it is exciting and meaningful to work for the Lord. Moreover, God will give His Spirit to those who obey Him (Ac 5:32). According to the Bible, the work will be completed swiftly (Rom 9:28), like the birth pangs quickly affecting a woman with child (I Th 5:3). We have reached a stage where we are witnessing the work is swiftly being completed, right in front of our eyes. However, we must not forget about the ordinary people, who may play the most important part. They are the ones visiting home after home, or conducting meetings in houses and giving presentations where the media cannot find access. May you be one of those who will participate in giving this last message of grace and warning to others. But it is now that we must get active. Show that you care about others. Show that you will do your bit to help persons escape from the kingdom of darkness, into a hope, a future, and eternal life. May God go with you!
In the blessed hope, Bente and Abel Struksnæs
---
---
This page belongs to Abel Struksnes. For more information contact Christian Information Service, Bente & Abel Struksnes, Vestrumsbygda 26, 2879 Odnes, Norway or send me an e-mail at abels@online.no